Nearly a couple weeks ago now I shared a black and white photo from a trip on the BNSF Staples Sub, showing the last train of the day. That one was, of course, not the only train, and now I can finally get around to sharing the rest of what I saw: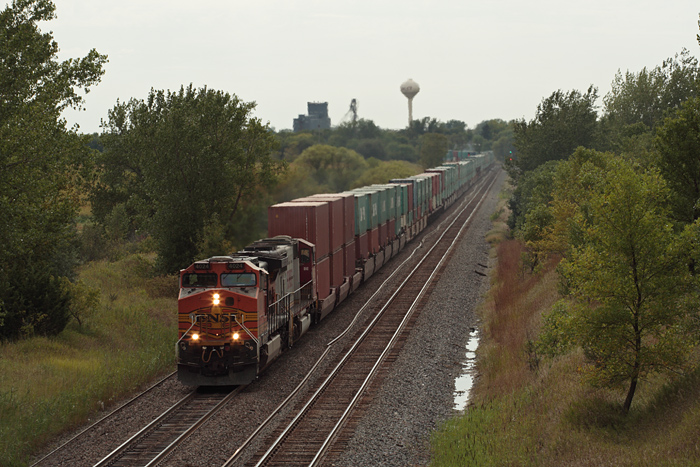 Naturally, a nominally sunny day turned cloudy by the time I got where I was going- in this case, a spot just east of Hawley, MN known to be populated with two wooden bridges over the former NP mainline. The town can be seen in the background.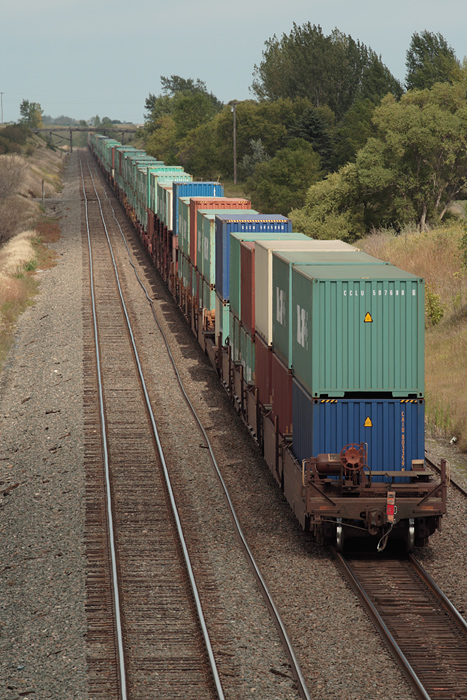 As I took pictures from one bridge, the other can be seen as the train rolls east. The Sun was trying to get through, but it hadn't managed it quite yet.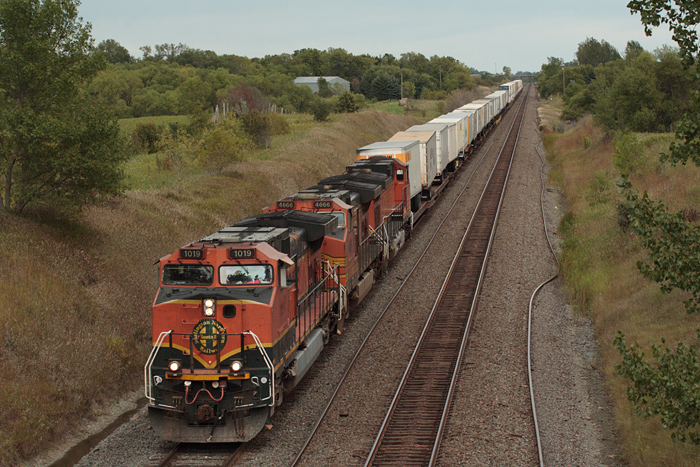 Nor by the time this one came.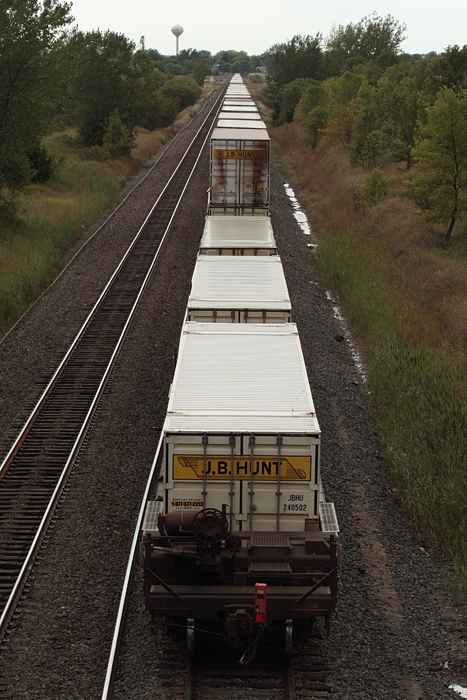 And went.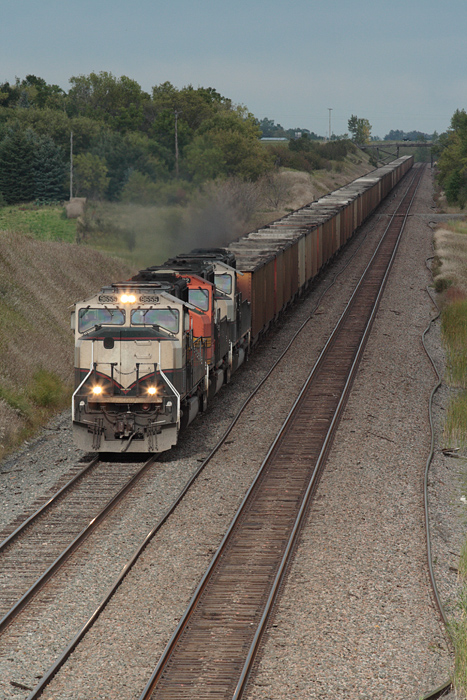 Coal empties head back to Wyoming as the Sun makes another attempt at breaking through.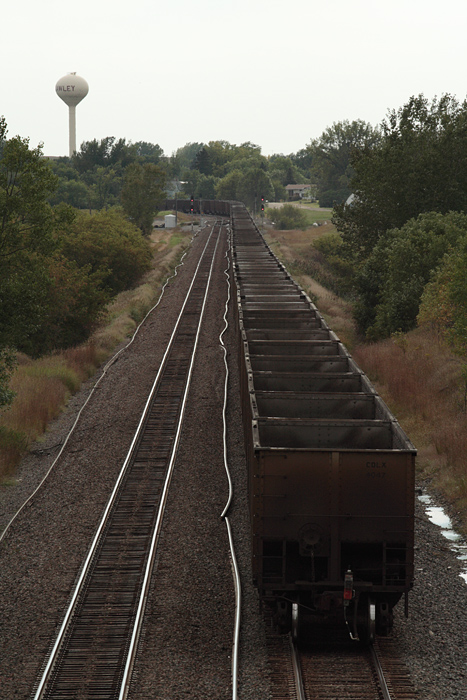 And into the hazy west it rolls.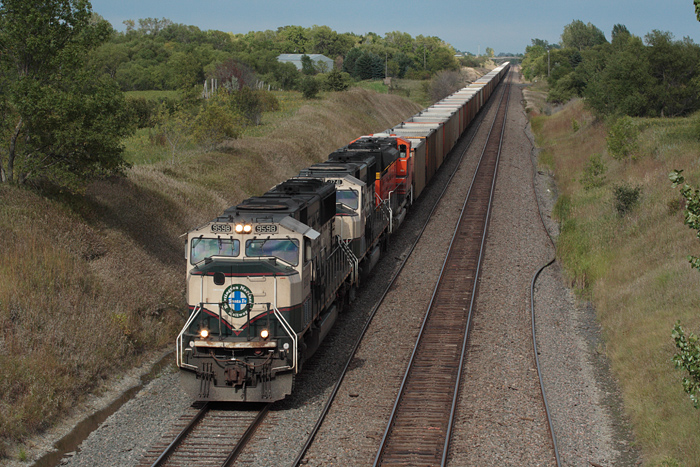 Finally, the clouds began to give way as 9598 brings more empties west.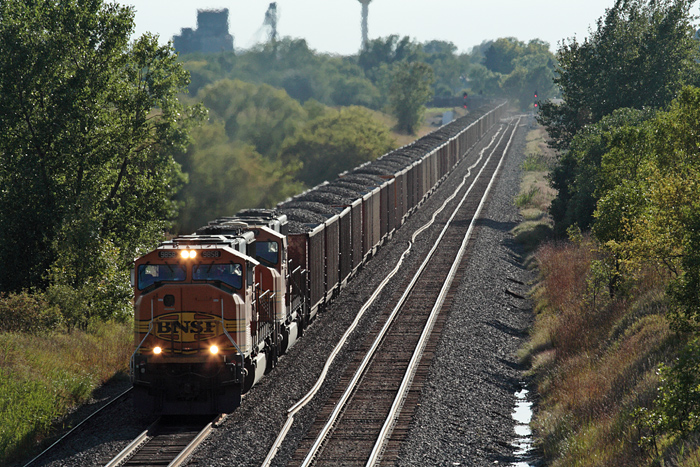 Unfortunately, once the Sun came out, the westbounds all but dried up. In the meantime, coal from the Powder River rolls east behind 9858.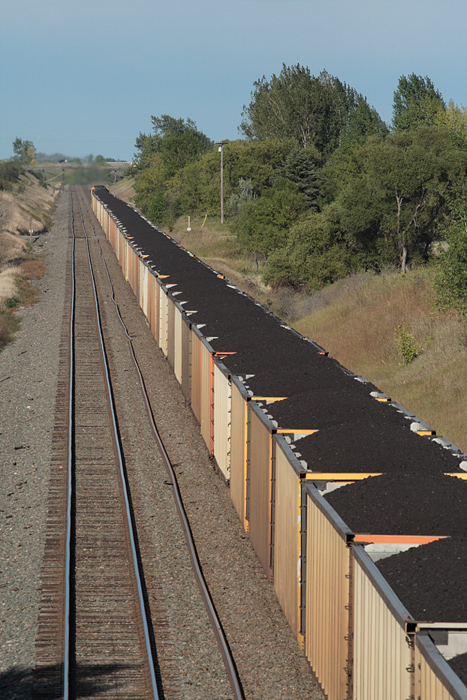 It just keeps going, and going...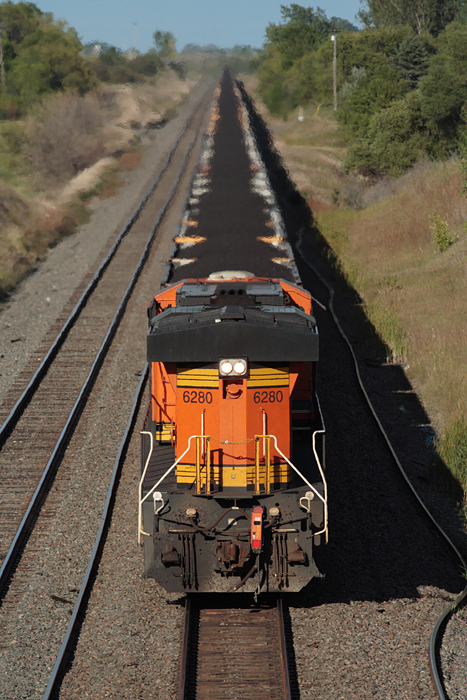 6280 brings up the rear.






Meanwhile, container stacks and auto racks are more time sensitive than coal, so they take the crossover to pass the slower-moving train on the other track.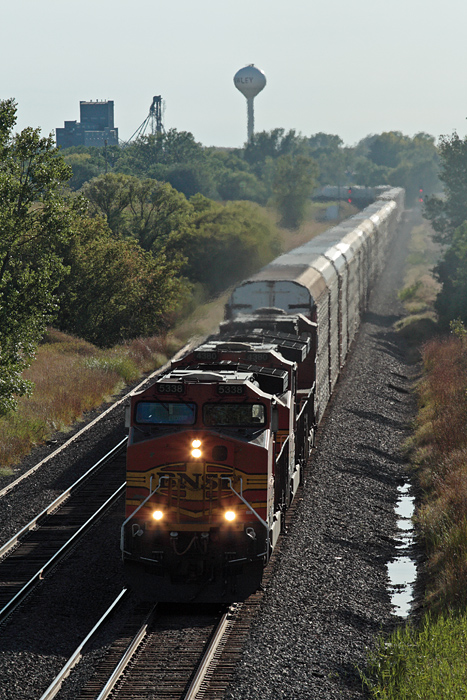 And then they accelerate. It's interesting being on that bridge when stacks go through- it doesn't clear them by very much!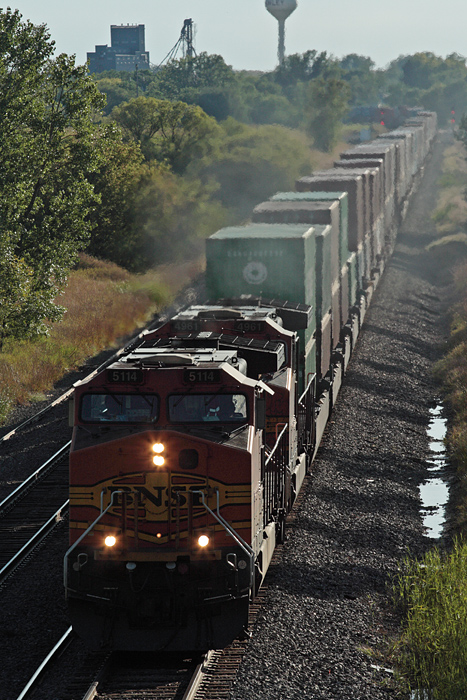 Another train crosses over to pass the coal train ahead, providing more opportunity to feel the bridge shake.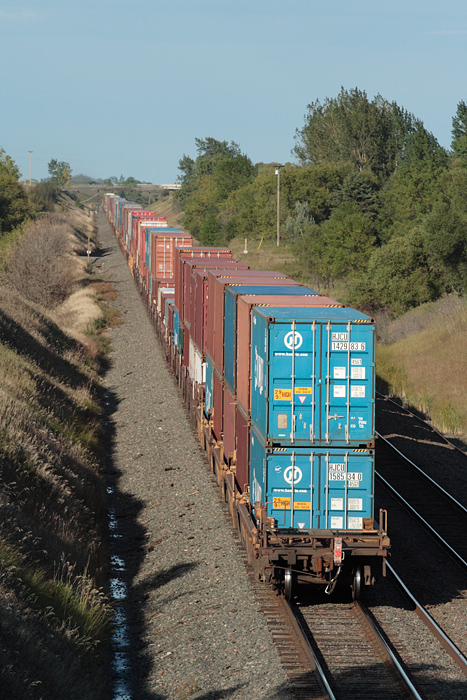 And off they go, bound for points east.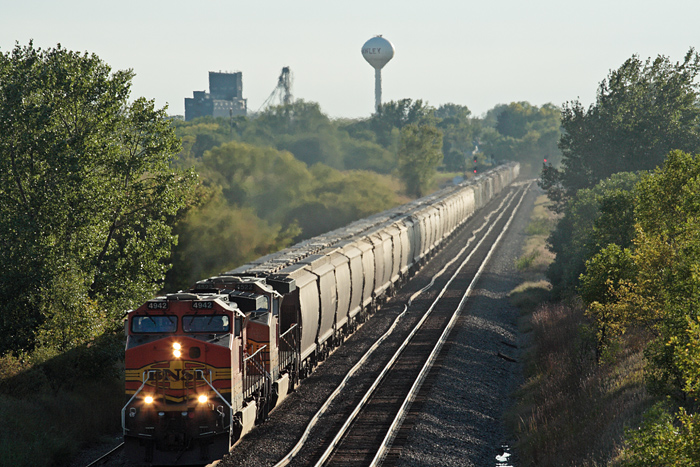 Grain traffic rolls through as well, as this loaded train shows. It's wasn't quite harvest season yet, but it's definitely time to start clearing space for this year's crop.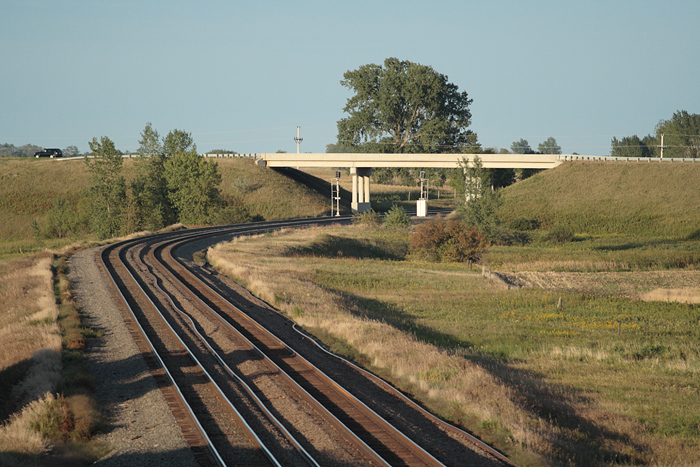 Now, there weren't any trains for a while, so I decided to check out the scene at the 'other' wood bridge. There, I found this view. Wouldn't this be a great time for a westbound to show up?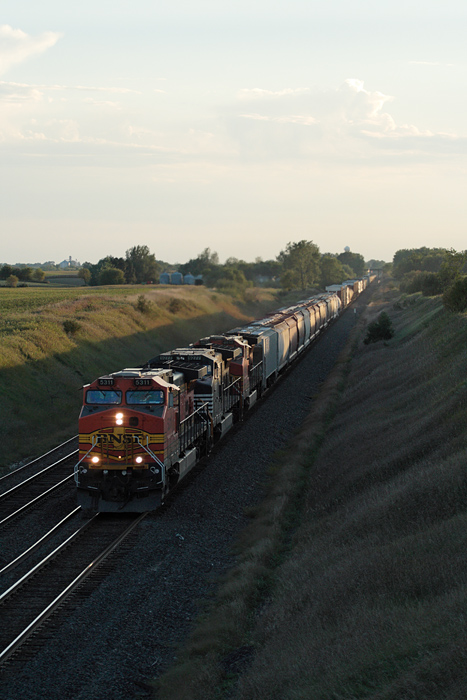 No such luck- 5311 takes a manifest train east. Note the Norfolk Southern unit in this train- that one's a long way from home. It wasn't alone though, as that was the second NS unit I saw that day.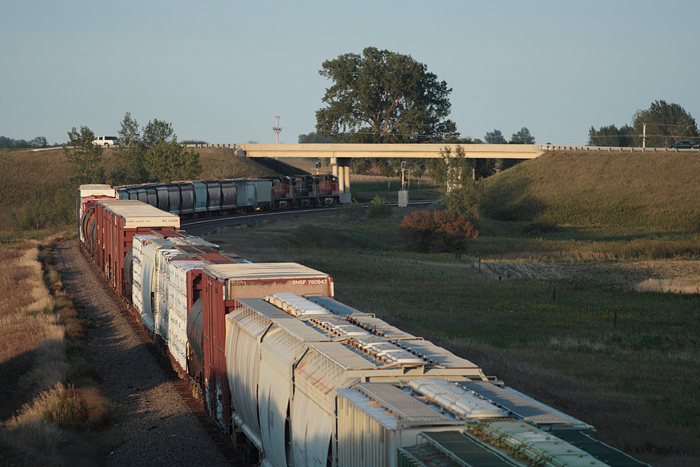 And there it goes.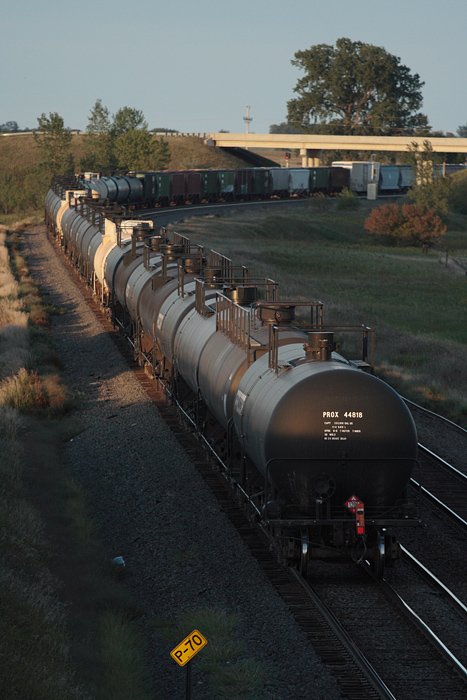 Pretend that's the front of a train, mmkay?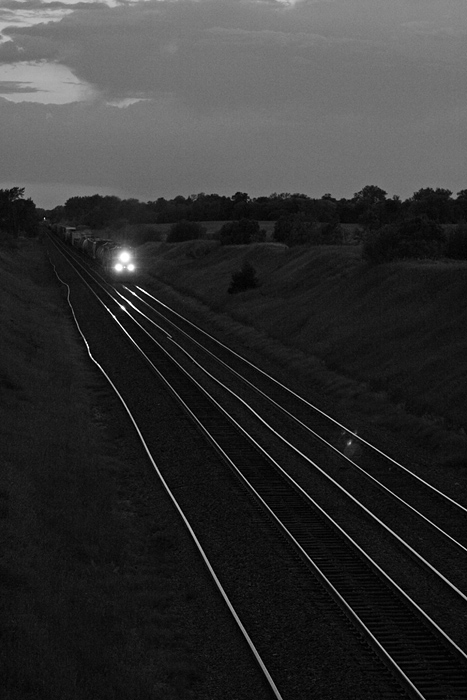 And now this photo again, in its proper context with the others.

I could have waited and watched Amtrak go through, but as that would have been another six hours or so at least, I declined...